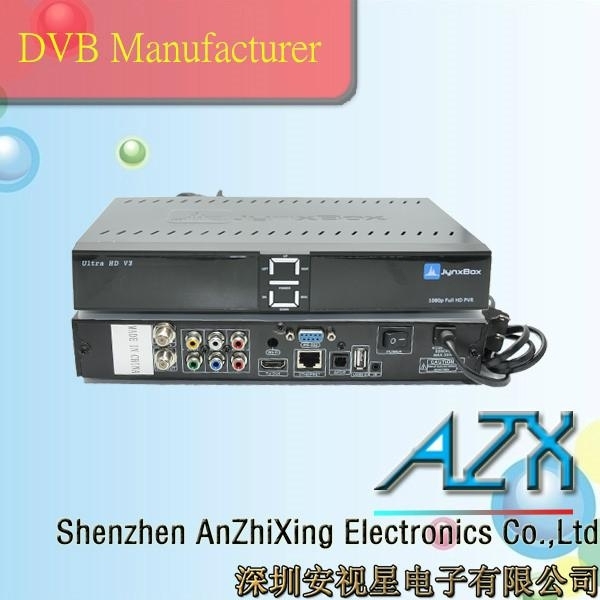 Jynxbox Ultra HD v3 is a highly integrated Media Player and HD FTA Satellite Receiver with networking. It has dual core high performance 32 bit RISC CPU, support dual USB 2.0 Host interface, High definition MPEG2/4 and H.264 video decoder, graphics engine, Ethernet , TV encoder and HDMI transmitter.
Get all your media in one small box. Not only is Jynbox a HD FTA Satellite receiver, but it also has slots for dual tuner, ATSC capable (with add on card coming out in the near future), Wifi (coming out in the near future), and can playback any media file via USB or SD card. Enjoy your mkv, divx, avi, mpeg, jpeg, files in full stunning 1080p high definition. Check out the below features and specs:

- Full HD 1080P H.264 solution
- Embedded Dual Core High performance 400Mhz 32bit CPU
- 128Mb 16 bit DDRII 800 SDRAM
- MPEG-2 video decoder
- AVC/H.264 video decoder
- MPEG4 ASP supported
- JPEG decoding accelerator
- Support 4 Video VDAC, can output YPbPr and CVBS simultaneously
- Build-in HDMI with HDCP
- Support full HD output
- MPEG-1 layers I, II and PCM down-mixing
- IEC958 S/PDIF digital output
- Digital mute control and volume adjustment
- Support Dolby down-mixed 2 channel
- Support 2 channel HE-AAC V1
- Build-in 2 channel Audio DAC
- Dual USB 2.0 host interface
- 10/100 Mbps Ethernet MAC with RMII
- Serial RS-232 Interface
- 1080P HD Multimedia Player w/ Dolby (MKV, XVID, AVI, X264, DivX, MPEG4, H264, FLV, etc...)
- MP3 Player and Picture Viewer
- Time Shift
- WiFi Ready
- Twin Tuner Ready
- ATSC Ready
- UHF Remote Ready
- MicroSD Card Slot
- USB PVR w/ NTFS Support
- External NTFS USB HDD Compatible
- Video Upscaling to 1080P
- Built in bracket for Wall Mountable solution
- IR extender Output
- Channel Auto Tune
- PVR Timer Scheduler
- 450mA LNB Output
- Multi Scan Support
- DVBS2 Tuner Support
- Turbo FEC PSK/QPSK Tuner support
- Blinscan support
- Disecq 1.0, 1.1 and 1.2 Support

WHATS INCLUDED:
-Jynxbox Ultra HD Media Player receiver
-JB100 HD Satellite Tuner (1)
-Universal remote control
-IR sensor extension
-Batteries for remote
Model No.: JynxBox Ultra HD V4 Satellite Receiver
North America JynxBox Ultra HD Satellite Receiver support 1080p full HD + JB200 + Wifi + Ethernet + USB PVR
Specifications:
1.Full HD 1080P Receiver
2. ATSC,8 QPSK ,JB200 HD moulde
3. WIFI and Internet with LAN
4. Twin tuner and USB (DVB-S2, ISDB-T, DVB-T2 compatible)
The New Jynxbox Ultra HD Version 3 Media Box is now available + JB200 HD Module. Jynbox features a robust Media Player supporting many popular formats MKV, XVID, AVI, X264, DivX, MPEG4, H264, FLV and many more. Jynxbox Ultra HD is one of the rare free to air receivers with dual tuner ability supporting JB200 HD ,DVBS2 8PSK, ATSC, DVB-T and ISDB-T
Jynxbox Ultra HD is highly integrated Media Player with networking. It has dual core high performance 32 bit RISC CPU, support dual USB 2.0 Host interface, High definition MPEG2/4 and H.264 video decoder, graphics engine, Ethernet, TV encoder and HDMI transmitter.
Main Features:
Jynxbox Ultra HD V4
Turbo 8psk and JB200 HDsatellite receiver for north American

Full HD 1080P H. 264 solution
Embedded Dual Core High performance 400MHz 32bit CPU
128MB 16 bit DDRII 800 SDRAM
MPEG-2 MP at HL video decoder
AVC/H. 264 HP at L4.1 video decoder
MPEG4 ASP supported
JPEG decoding accelerator
Support 4 Video VDAC, can output YPbPr and CVBS simultaneously
Build-in HDMI with HDCP
Support full HD output
MPEG-1 layers I, II and PCM down-mixing
IEC958 S/PDIF digital output
Digital mute control and volume adjustment
Support Dolby down-mixed 2 channel
Support 2 channel HE-AAC V1
Build-in 2 channel Audio DAC
Dual USB 2.0 host interface
10/100 Mbps Ethernet MAC with RMII
Serial RS-232 Interface
1080P HD Multimedia Player w/ Dolby (MKV, XVID, AVI, X264, DIVX, MPEG4, H264, FLV, etc...)
MP3 Player and Picture Viewer
Time Shift
WiFi Ready
Twin Tuner Ready
ATSC Ready
UHF Remote Ready
MicroSD Card Slot
USB PVR w/ NTFS Support
External NTFS USB HDD Compatible
Video Upscaling to 1080P
Built in bracket for Wall Mountable solution
IR extender Output
Channel Auto Tune
PVR Timer Scheduler
450mA LNB Output
Multi Scan Support
DVBS2 Tuner Support
Turbo FEC 8PSK/QPSK / JB200 HD Tuner support
Blinscan support
Disecq 1.0, 1.1 and 1.2 Support
universal Remote
Dreamlink HD

•External USB 2.0 HOST HDD supporting for Timeshift and Live recording or playback simultaneously, powerful trick mode
•MPEG-2 & MPEG-4 AVC (H.264)
•DVB-S, DVB-S2 compliant
•Multi LNB controlled by DisEqC control version 1.2 and USALS
•USB 2.0 HOST support
•Brilliant 65,535 colors full-resolution on screen display
•Multi-language supported, (OSD & MENU)
•Software upgrade via RS-232 Serial Port and USB
•True to life HD, (High definition : HDMI)
•CVBS video and audio via RCA
•Component, (Y/Pb/Pr), output via RCA
•Channel sorting by alphabet, transponder, CAS
•Maximum 10,000 channels programmable
•Closed caption support
•Favorite channels groups
•Support extended 7 day EPG
•Parental lock and receiver lock
•Powerful channel control by favorites, lock, skip, move and delete
•Universal Remote controller
•LAN port
•SPDIF port

Export Markets︰
WORLD
700 channels arabic iptv Android receiver no dish
Model No.

i-3

OS

Android 4.03

Framework

CPU:ARM Cortex-A9 HI-3716M

DDR3:4G BIT

Nand Flash:4GB Byte 32G Bit

Network LAN

Ethernet interface: RJ-45

Wifi:802.11/b/g/n with RT5370 and RTL8188

Language

English/ simplified Chinese / Multiple languages

Back panel connector

HDMI 1.3 / CVBS / AV Audio / SPDIF

USB 2.0 x 2

Multimedia play format

H.264,MPEG2,DivX,TS,MKV,TP,AVI,VOB,DAT,MPG,MPEG,

MOV,AAC,MP3,WMA,JPG,BMP,JPEG,PNG.

Power and

Operation condition

AC Range of rated voltage: 90 ~ 250V, 50/60Hz

DC Input Range:5V 2A to 12V 1A

Rated consumption: <12 W

Standby consumption: ≤ 1 W

Temperature: 0°C-45°C

Humidity: <95%

Accessories

Remote

Adapter

HDMI cable

Network cable

AV cable

Wifi Module Antenna
Skybox F5 HD PVR 1080P Full HD Satellite Receiver Support USB Wifi

| | |
| --- | --- |
| Board configuration | 396MHz MIPS CPU 128MB DDRII400 RAM Memory Clock 198MHz 4MB Serial Flash Single Tuner DVB-S2 demodulator |
| Power Supply | Input 100V-240V 50/60Hz |
| Power Consumption | 30W Max/1W Standby (it's optional by customer?s board) |
| RS232 | For FW Upgrading |
| Standard Receiver Standard | DVB-S2 Standard (DTSI EN 302 307) |
| Input Frequency Range | 950MHz~2150MHz |
| Input Signal Level | -25dBm ~ -65dBm |
| Demodulation | QPSK, 8PSK, 16APSK |
| Transport Stream | MPEG-2 ISO/IEC 13818 Transport Stream Specification |
| MPEG Profile Level | MPEG-2 SD, MPEG-2 HD, H.264/AVC SD, H.264/AVC HD |
| LNB Power & Polarisation | Vertical +13.5V, Horizontal 18V, Current: MAX 500ma |
| Multi Satellite Receiving | 22K switcher, DiSEqC1.0, DiSEqC1.1, DiSEqC1.2, USAL |
| Conditional Access System | 1 CA card reader Slots |
| A/V Output ports | HDMI 1.3, Left/Right analog audio output(RCA) |
| Aspect Ratio | Auto, 16:9 Pillar box, 4:3 Pan & Scan, 4:3 Letter Box. |
| Audio Decoding | MPEG1 Layer I, MPEG1 Layer II, MPEG 1 Layer III, MPEG2, AC3. |
| Audio Mode | Stereo/MONO/Left/Right |
| DVR supporting | DVR with USB HDD, Time shifting with USB HDD |
| USB2.0 High Speed Host | 1USB2.0 Port, USB media player to playback the media in USB flash disk or USB HDD or USB card reader with memory card or FW Upgrading. |
| File System | FAT12, FAT16, FAT32, NTFS |
| Media Supporting | JPG, BMP, MP3, WMA |
| Ethernet Interface | 10Mbit |
| Storage Temperature | 0ºC To +50ºC |
package 1x F5 HD Box 1x Remote control 1x Power Supply Cable 1x HDMI Cable 1x User Manual